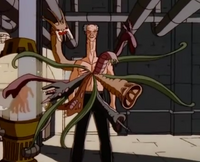 Season One is the very first season of Men in Black: The Series. The first episode, The Long Goodbye Syndrome, aired on October 11, 1997, and the season finale, The Take No Prisoners Syndrome aired on May 16, 1998. However, the episodes were not evenly spread out, and the last four episodes aired months apart.
Episode Guide
#
Title
Writer(s)
Director
Original airdate
Code
01
The Long Goodbye Syndrome
Duane Capizzi
Frank Paur
October 11, 1997
01
On a mission to help stop a Skraaldian multiplication in a sewer, there was a struggle against one. J fires a Noisy Cricket at it, blowing it up. Now, he's a wanted target for every other Skraaldian on their home planet, Skraal. And since the Skraaldians have a hive mentality and are locked on to his DNA, It won't be easy for J to escape. Only K can get him out of it. But will he in time? And why does nobody seem worried?




02
The Buzzard Syndrome
Steve Roberts
Nathan Chew
October 18, 1997
02
Jay and Kay investigate a crashed alien ship in the woods. Soon they encounter Treblor, an alien cop from the Zombarian Retrieval Department. Treblor claims that the owner of the crashed ship is a dangerous fugitive named Z-Ron. While Jay goes out ahead to capture Z-Ron, Kay learns that "Treblor" isn't who he says he is.




03
The Irritable Bow-Wow Syndrome
Mark Amato
Frank Paur
October 25, 1997
03
Agents J and K investigate a Charnock landing site at a farm. Their only clue is a skin. After Jeebs and Frank argue at Jeebs' pawnshop, the real Charnock appears disguised as a fat, grumpy man. Jeebs shows him the Void Density Core, which is like a miniature black hole, sucking anything within a three-mile radius. He tells him that it isn't for sale, but he doesn't listen. He threatens to activate the core but Jeebs knocks it out of his hand. Frank puts the core in his mouth to carry it. But, out of shock, he accidentally swallows it! Now the Charnock is after him! Can J and K save Frank from getting "sucked inside myself!"?




04
The Alpha Syndrome
Alexx Van Dyne
Michael Goguen
November 1, 1997
04
Investigating the theft of a Sintillian heart, Kay learns the culprit is Alpha, his former mentor, who stole a Verulian Cosmic Integrator and left Kay for dead years ago. But Jay and Kay discover that Alpha now has multiple alien body parts grafted onto his body, becoming even more dangerous.




05
The Undercover Syndrome
Steve Roberts
Dennis Woodyard
November 8, 1997
05
Jay goes undercover as a Tarkan bodyguard at an alien conference to protect Dirndl, Trade Minister of Tarka, from an alien assassin. But with two dozen alien races present, it's like looking for a needle in a haystack.




06
The Neuralyzer Syndrome
Mark Amato
Dennis Woodyard
November 15, 1997
06
J wants to know more about K. But K doesn't want J to know much. A pair of alien war-profiteers named the "Chop-Shoppers," who steal flying machines and sell them to black markets, appear and attempt to steal a spacecraft disguised as a Dry-cleaning store. J is distracted by an old friend from his pre-MIB life, but after the reunion was broke up by K's neuralyzer, he drops it. J picks it up. As they go after the Chop-Shoppers, K says, "You can't go home again." They fail to catch the Chop-Shoppers. Then, while not paying attention, J neuralyzes K to the age of sixteen! With K's memory gone, how will he and J stop the Chop-Shoppers?


Note: This episode is no longer shown in America due to an alien ship disguised as a blimp almost crashing into the World Trade Center.




07
The Symbiote Syndrome
Alexx Van Dyne
Nathan Chew
November 22, 1997
07
When Kay is infected with Millicrons, Jay takes his place on an assignment to transport a teenaged symbiote named Troy to New York City. He has to do it within twenty hours, or be permanently absorbed by Troy. But Buzzard returns and is looking to capture the symbiote for his mysterious boss.




08
The Inanimate Syndrome
Thomas Pugsley
Greg Klein
Michael Goguen
December 6, 1997
08
An Inanimate, a shapeshifter capable of disguising itself as inanimate objects, escapes from prison to Earth. But the MIB get some help from Eileen, an intergalactic cop that stirs up some old feelings for Kay.




09
The Psychic Link Syndrome
Steve Roberts
Nathan Chew
December 13, 1997
09
An insane Alcidian named Forbus is hunting humans, draining them of their bodily fluids. But during the pursuit, Forbus forms a psychic link with Kay, making him feel whatever he feels.




10
The Head Trip Syndrome
Thomas Pugsley
Greg Klein
Michael Goguen
December 20, 1997
12
Jay mistakes a Cerebro-Accelerator for a pair of head phones, making him the smartest man on Earth. However, this will also cause his brain to explode in twenty-two hours. But his advanced brain is MIB's only hope when alien hating bigot uses time travel to erase the five founders of MIB from existence.




11
The Elle of My Dreams Syndrome
Greg Weisman
Frank Paur
January 10, 1998
10
Alien dream-eaters known as the Vermax attack the crew of a returning NASA space shuttle. When Jay, Kay and Elle arrive at the landing sight, a Vermax attaches itself to Jay and sends him into a deep sleep. Elle enters Jay's dreams to get him to wake up and remove the Vermax.




12
The I Married an Alien Syndrome
Steve Roberts
Dennis Woodyard
February 14, 1998
13
The Blastula are increasing the temperature on Earth in their plot to colonize the planet. Meanwhile, Jay believes that Kay may be an alien spy for the Blastula.




13
The Take No Prisoners Syndrome
Dean Stefan
Dennis Woodyard
May 16, 1998
11
Dr. Lupo and other inmates of MIB's prison ward manage to break out and incapacitate most of MIB. Only Jay and the worms can save the day.



Release
In North America, six episodes were released on VHS. They have not been released on DVD, nor has the complete season been released.
In Australia, this season was released in two volumes (first has seven, second has six).

Twelve days later, the UK received the same volumes.