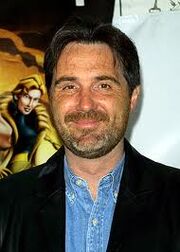 Patrick Pinney is an American voice actor. He attended college at the University of the Pacific in Stockton, California, where he had many friends including assistant director Michele Panelli Venetis and San Francisco Bay area costumer Alison Barnwell Morris with whom he costarred in "The Deputy" at the UOP Rotunda Theatre.
Pinney has provided voices for a number of animated characters, including Mighty Mouse in the short-lived Mighty Mouse: The New Adventures (1987–1988), Pa Gorg, Uncle Traveling Matt, Flange Doozer, and "Additional Voices" in the animated version of Fraggle Rock, Chico the Bouncer in the hybrid live-action/animated film Cool World (1992), and the speaking voice of Painty the Pirate in SpongeBob SquarePants (1999–present). He supplied the voice of the Fish Ghoulie in the 1987 film Ghoulies III: Ghoulies Go To College and voiced Stan in the video game The Curse of Monkey Island. Pinney has appeared on the stop-motion animation show Robot Chicken as Arnold Schwarzenegger, Sylvester, Ted Kennedy, Dick Cheney, and O. J. Simpson.
He voiced two worms in Men in Black: The Series.
External links