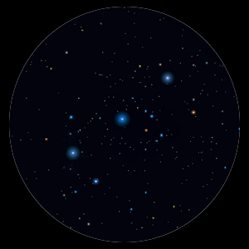 Orion's Belt is a series of three stars in the sky constellation, Orion. The belt is made of the three stars, Alnitak, Alnilam, and Mintaka. In Men in Black (film), Gentle Rosenburg, a dying Arquilian, tells Jay that the Arquilian Galaxy is on Orion's Belt. Back at MiB, Jay, Kay, Zed, and the twins ponder how a series of three stars could contain a Galaxy with billions of stars. However, after a talk with Frank the Pug, Jay realizes that a Galaxy could be tiny. He also discovers that the Galaxy was on Rosenburg's cat's collar.
Trivia
When the agents look at the belt on the computer, the three stars order is reversed, and Alnilam is misspelled.
Appearances
Community content is available under
CC-BY-SA
unless otherwise noted.