Newton is a recurring minor character in the Men in Black films. Newton originally worked at a morgue with Laurel. He is portrayed by David Cross.
Biography
In his first appearance he lets Kay and Jay into the morgue. Later, he starts killing flies in front of Edgar, an alien bug. Edgar gets mad, and on a return visit, Kay begins to light a cigarette. But, his match goes out from slime from the ceiling. He looks up, and Newton is slimed to the ceiling; it is not said what happened. He returned with a slightly bigger role in the second movie.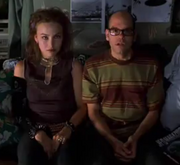 In the second movie, Kay and Jay find him as the owner of the Tapeworm Video Store, where Kay had reserved a Mysteries in History video on an alien event that Kay was a part of. Newton lives with his mom and his girlfriend Hailey, on the same building of the rental. He believes highly in aliens and the MiB, possibly due to what happened before. After watching the movie, he is neuralyzed and told to get contacts, move out, take Hailey out for a nice lobster dinner, and to pay more than a dollar for the dinner. They agree to go to Cambodia, and Newton grabs a shovel and starts downstairs to his mom.
Appearances
Community content is available under
CC-BY-SA
unless otherwise noted.