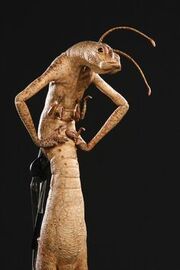 Neeble is a male worm and one of the four main worms in the Men in Black Series. Like the other worms, he is addicted to coffee, and is semi-perverted.
In Men in Black II, Agent J told Laura Vasquez to "watch out for Neeble." It is unknown whether J meant to stay away from him of stick up for him, as other worms may disrespect him.
Appearances
Our community needs more information on this page! Can you help out? Click here to add more.
---