The Men in Black Wiki is a collaborative Wiki focusing on the original Comic Book Series (originally published by Aircel Comics, which was bought by Malibu Comics, which was bought by Marvel Comics), the successful Films, the Animated Series, and much more. Founded May 2, 2011, this Wiki is just getting started, so feel free to edit as much as you want. If you need anything, contact Santademon, the administrator.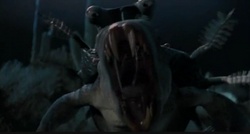 Mikey is an alien of an unknown species, who is supposed to be in jail. He is an alien on the run, who attempts to disguise himself as an immigrant. Mikey is similar to an amphibian/reptile with two independent eyes and he also appears to have a shell on his back, which has six small arms and hands. His appearance can be best descibed as a humanoid cross between of a bull frog and a crocodile. Mikey is voiced by John Alexander.

"

Unlimited technology from the whole universe, and we cruise around in a Ford P.O.S.

"

—Jay referring to the cars used by the MiB

Suggest more facts here.